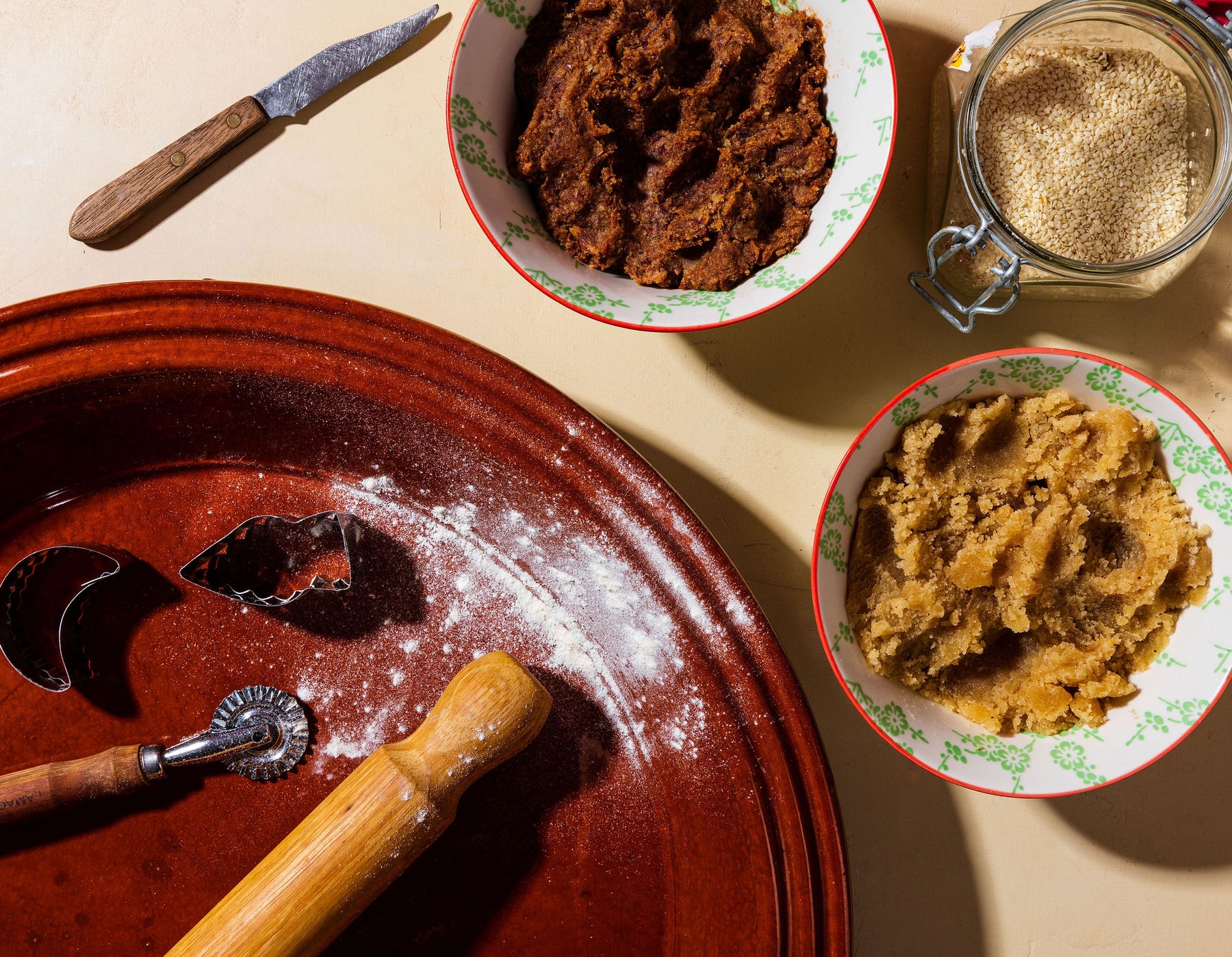 Coconut snowball
• Total: 72 mins
• Prep: 60 mins
• Cook: 12 mins
• Servings: 12 servings
Ingredients
• 3 eggs
• 236 mL vegetable oil (half melted butter if desired)
• 200 g granulated sugar 
• 1 teaspoon vanilla (or 1 sachet of vanilla sugar)
• 400 g flour (approx.)
• 2 teaspoons baking powder
• 625 g apricot jam
• 3 tablespoons orange flower water (or to taste)
• 200 g finely grated desiccated coconut (unsweetened)
Method

Make the Cookie Dough
1- Gather the ingredients.
2- Preheat your oven to 360 F/180 C.
3- Line two or three baking sheets with parchment paper.
4- In a large bowl, beat together the eggs, oil, sugar, and vanilla until smooth and thick. Add the flour, baking powder, and salt and stir or blend with your hands just long enough to form a soft, slightly sticky dough that can be shaped into balls.
5- If you feel the dough is too soft and sticky, you can work in a little more flour, but take care to not over mix and not to add so much flour that the dough becomes stiff rather than soft.
6- Shape the dough into small balls the size of cherries and place them on your lined baking sheet, allowing at least an inch (2.5 cm) between cookies. 
7- Bake the cookies in batches in the middle of the preheated oven for 10 to 12 minutes, or until lightly golden. Remove to a rack to cool briefly—about 5 minutes—before garnishing.


Garnish the Cookies
1- While the first batch of cookies is baking, prepare the garnish.
2- Transfer the coconut to a pie plate or other larger, shallow dish. Set aside.
3- If your apricot jam has pieces of fruit in it, use an immersion blender or food processor to blend the jam to a smooth consistency.
4- Place the apricot jam in a small saucepan and add the orange flower water. Heat over medium heat for a few minutes until the jam is hot and syrupy-thin. Remove from the heat.
5- Submerge several cookies at a time in the hot jam. Remove two cookies, drain or wipe off the excess jam, and press their bottoms together. Roll the sandwiched cookies in the coconut and return them to the parchment-lined pan to finish cooling.  
6- Repeat the garnishing with the remaining batches of cookies, reheating the apricot syrup if necessary to keep it of thin consistency.