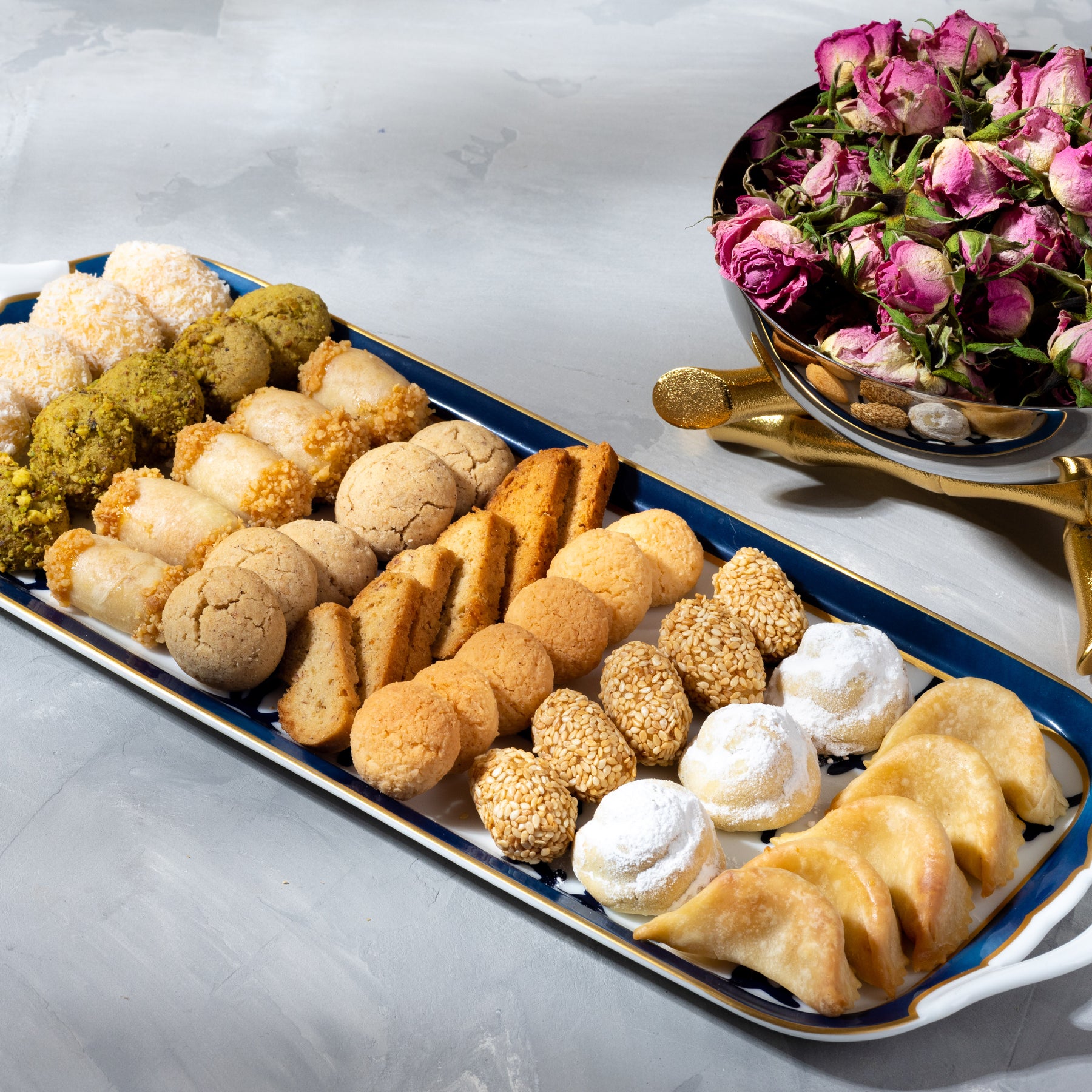 Four Days of Celebrating Eid al-Adha
The countdown to Big Eid has begun and you're likely in the middle of your preparations as we all get ready to celebrate. This year Greater Eid greets us in the middle of summertime and we can look forward to waking to sunshine as we to head off to morning prayers and to summer sunsets as we spend cherished time feasting with family and friends. 
This is our time to encourage good deeds, a time to practice kindness and a time to exchange gifts of love to make things a little sweeter all around. Here at Raphia we are enjoying the comfort of leaning into our most valued traditions to carry us through this years festivities and our biggest holiday. 
In the spirit of Eid we would like to share with you a recipe for one of our favourite traditions enjoying making and eating our Ghriba cookies — a small gift from our Raphia family to yours — something deliciously sweet to try and pairs perfectly with a glass of refreshing Moroccan Mint tea. 
Ingredients
1/2

 

cup

 (4 ounces) 

unsalted butter

, softened

1/4

 

cup

 

sesame seeds

, unhulled

2 to 3

 

teaspoons

 

vanilla sugar

1 1/2

 

teaspoons

 

baking powder
Making the dough
Ahead of time, toast the sesame by spreading the seeds in a single layer and baking in a 400 F / 200 C oven for about 10 minutes; let cool. Blanch and fry the almonds, then grind coarsely.
Combine the sugar, butter, and oil in a large bowl. 
Mix in the sesame seeds, almonds, and vanilla sugar.
Mix in about half of the flour and the baking powder. When combined, use your hands to work in enough of the remaining flour to make a dry, crumbly mixture.
Use a stand mixer and paddle attachment to mix the dough on the lowest speed for 10 minutes, or knead by hand for 20 minutes, to make a dough that clumps together but is not so moist as to form one uniform mass. If the dough seems to be too moist, add a little flour. Conversely, if the dough remains too dry and crumbly to pack into a ball easily, then add a tablespoon or two of oil. In either case, allow ample mixing time to blend any additions fully throughout the dough.
Preparing the Ghriba Cookies
Preheat your oven to 338 F / 170 C. If you don't have a special ghriba mold, line a regular baking sheet with parchment paper. There is no need to grease the ghriba mold.
Take a portion of dough and squeeze it in your hand to compress and mold it. Shape it into a 1 1/2-inch (3.5 centimeter) ball, then flatten it in your palm to a smooth disc shape. Correct any cracked edges.
Gently press the cookie onto the molded pan or place on your prepared pan. Repeat with the remaining dough. Plan to bake in batches.
Place the baking rack to its lowest position and turn on the broiler. Bake the cookies for 5 or 6 minutes, then turn off the grill and move the cookies to the upper third of the oven. Continue baking for another 15 minutes, or until the cookies are lightly colored with crackled tops. 
Remove from the oven and allow the cookies to cool a few minutes on the pan. Transfer them to a rack to cool completely before storing in an airtight container with waxed paper or plastic between layers.
We hope you enjoy! And if you don
'
t have time to make these in time for the celebrations you can treat yourself to Raphia
'
s Ghriba here.
Finally, we have put together a wonderful selection of beautifully packaged Moroccan sweets and pastries for you to share with friends and family as you celebrate. Our 
luxury Eid al-Adha gifts make the perfect last minute gift to share with your family and friends. 
Wishing you all Eid Mubarak.
With love from Zineb and the Raphia team