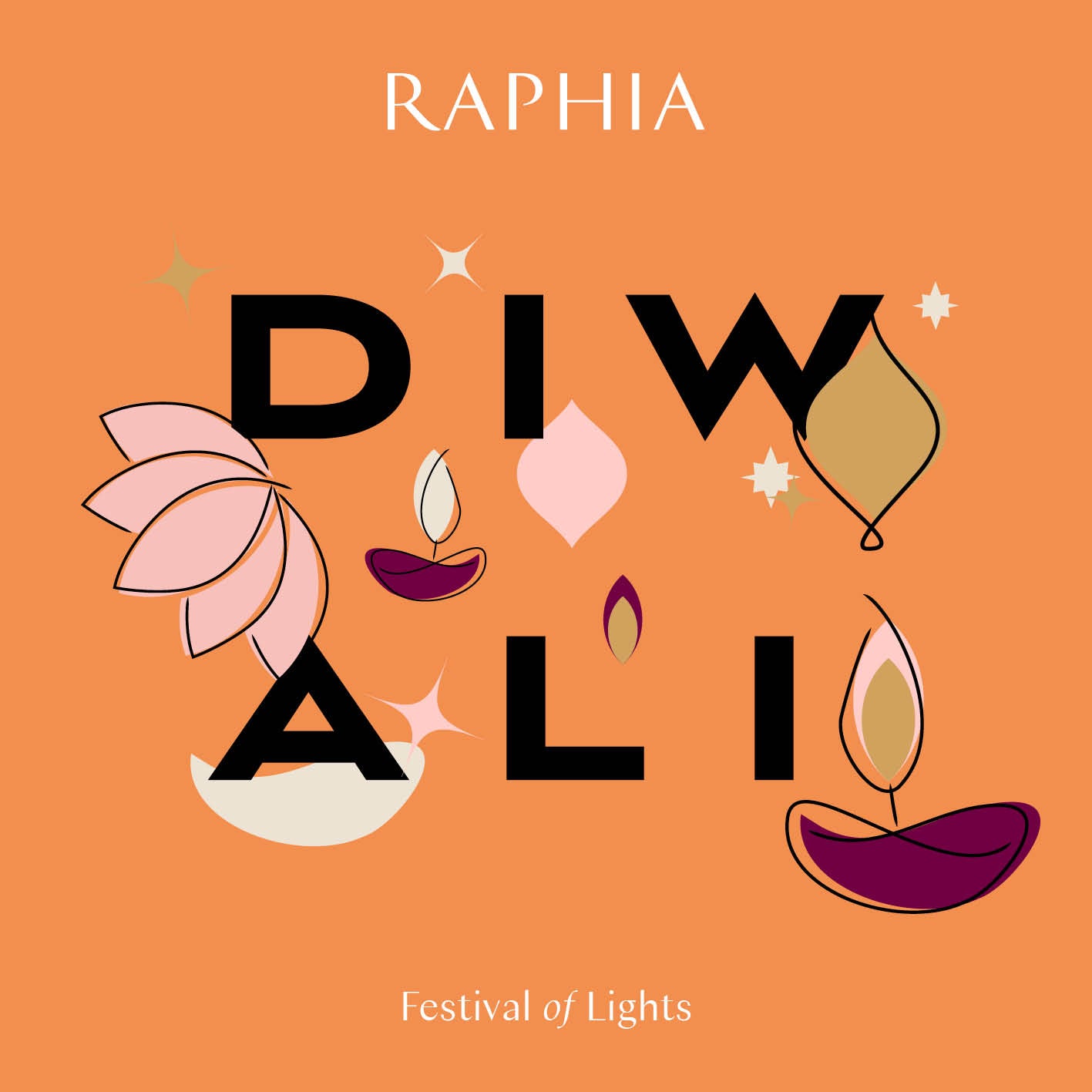 Hosting a Joyous Diwali Dinner
Diwali is in four weeks. It's around the corner! Here at Raphia we love joining this joyous celebration of the five-day Festival of Lights. Celebrating good over evil, bringing smiles and happiness to the faces of family, friends, and community. These are values we live by too.

What better way to shine light on love than celebrating together at home?
We love entertaining. Hospitality and welcoming are in our Moroccan blood. In honour of Diwali we're sharing our favourite hosting and styling pointers to help your dinner party have that warming and festive sparkle.

• Lighting. Diwali wouldn't be Diwali without lights. Whether you're a traditionalist who adores the soft glow of dyas and candles or want to go bold with maximalist chandeliers or sculptural pendant lights—the key to creating a joyous festival atmosphere is balance.

For an intimate dinner we like to use lighting to create focal points. Ambient, accent and task lights allow you to perfect the mood. For example, accent lighting can be directed to create a focal area, table lamps placed next to seating add an extra layer of brightness to the setting or have a floor lamp that arches over the dining space for a more dramatic effect.  


• Tablescape styling. Diwali is a beautiful reminder of the importance of togetherness at the dinner table. An intimate Diwali celebratory dinner calls for a tablescape that brings mesmerising and magical moments for your loved ones to enjoy.

As with lighting the key here too is mastering the art of balance and co-ordination. Bring your lighting through to the table top with candles, tea holders and fairy lights—we love using chai glasses as tea light holders.

This year we're also being experimental with Raphia's colourful fresh flowers alongside artisanal paper flowers which can be reused as gift toppers or stowed for next season. We particularly love the work of paper artist Susan Beech who creates beautifully delicate paper flowers from her studio
A Petal Unfolds.

• Gifting and sharing. If you want to get ahead with wow-worthy Diwali favours and gifting or for Diwali chocolates and sweets to share at your dinner table, head over to Raphia and you'll discover our thoughtfully put together Festival of Lights collection.

Inspired by the joyous spirit of Diwali there are six products—Harmony, Prosperity, Illuminate and Happiness—conceived and designed to make the perfect, uniquely desirable, sweet and savoury gift choice.

The collection is exquisitely packaged in hand-made boxes by Moroccan artistans from Casablanca. The boxes are limited edition and a collectable keepsake for your Diwali memories.

Shubh Deepawali