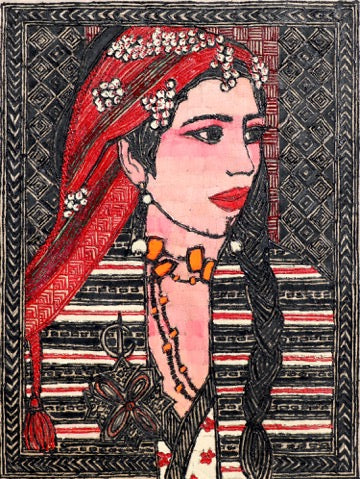 Collab with Renowned Moroccan Creator Ghizlan El Glaoui
Raphia's Creative Collab with Renowned Moroccan Creator Ghizlan El Glaoui.
Born in Morocco in 1969 into an artistic family, Ghizlan spent much of her childhood in the studio of her father the world-renowned painter Hassan El Glaoui. Often the subject of his portraits, she became his muse. With the inspirational and exotic surroundings of Morocco and France for Ghizlan it was like swimming in a magic potion from the ancient and modern worlds. Raised in those two worlds Ghizlan's physical and cultural duality found their expression with the tying together of the outer and inner self. To this end, Ghizlan has devoted considerable attention to the natural essence of the female form, the sacred feminine within — exposing the strength, enlightenment and symbolic good in all. 
It was therefore a perfect fit for Raphia to collaborate with Ghizlan for the launch of the brands Argan Oil product.The beautifully packaged limited edition collectable bottle features Ghizlan's painting 'Berber Woman'. 
Raphia's Argan Oil is a celebration of the Berber women's co-operatives in the Argan region (high in the Anti-Atlas mountains) with whom Raphia sources this 100% natural premium multipurpose product. The oil is from the nut of the Argan tree and contains powerful antioxidants and high concentrations of nutrients and Omega 6 and 9 fatty acids, essential for building and maintaining healthy skin. The Argan nuts are cracked by hand using centuries-old techniques. The oil is then cold-pressed using modern methods that preserve the integrity of the oil.
To reserve your limited edition bottle email: marketing@raphia.co.uk 
To learn more about the work of Ghizlan El Glaoui visit: